Rubber Accelerator CBS(CZ)Â 
Chemical Name: N-Cyclohexyl-2-benzothiazole sulfenamide
Molecular Formula:Â C13H16N2S2
Molecular Weight: 264.4
CAS NO: 95-33-0
Rubber Accelerator CBS(CZ)Â Specification:Â 
| | |
| --- | --- |
| | |
| Appearance | Greyish white or light yellow powder |
| Initial Melting point ºC≥ |  98.0 |
| Heating Loss:%≤ | 0.30 |
| Ash content %≤ | 0.30 |
| Residue on 100mesh Sieve %≤ | 0.10 |
 The product could be oiled and pelleted upon customer request.
Rubber Accelerator CBS(CZ)Â Properties:
Gray-white powder (granule) with a little odor, The density is 1.31-1.34., nonpoisonous, soluble in benzene, methylbenzene, chioroform, carbon disulfide, carbon tetrachloride, methylene chioride, acetone and ethyl acetate; not easily soluble in ethyl alcohol; insoluble in water, dilute acid, dilute alkali and gasoline. 

Rubber Accelerator CBS(CZ)Â Application:
Rubber Accelerator CBS(CZ)  is a prinary accelerator giving delayed action, a fast curing rate. Non-blooming, it is widely applied in NR, IR, reclaimed rubber, SBR, NBR and EPDM, especially for SBR, This product can be applied alone or with accelerators of thiuram, guanidines & dithiocarbamates. Because of the slight pollution caused, this product is mainly used in black/non-white products such as tires, belts & cable etc. Because of the bitterness of the product after vulcanization, it is not recommended to apply it to beverage and food containers. 

Rubber Accelerator CBS(CZ)Â Packaging and storage :
25kg plastic woven bag, paper with plastic film bag, kraft paper bag
The product should be stored in the dry and cooling place with good ventilation, avoiding exposure of the packaged product to dire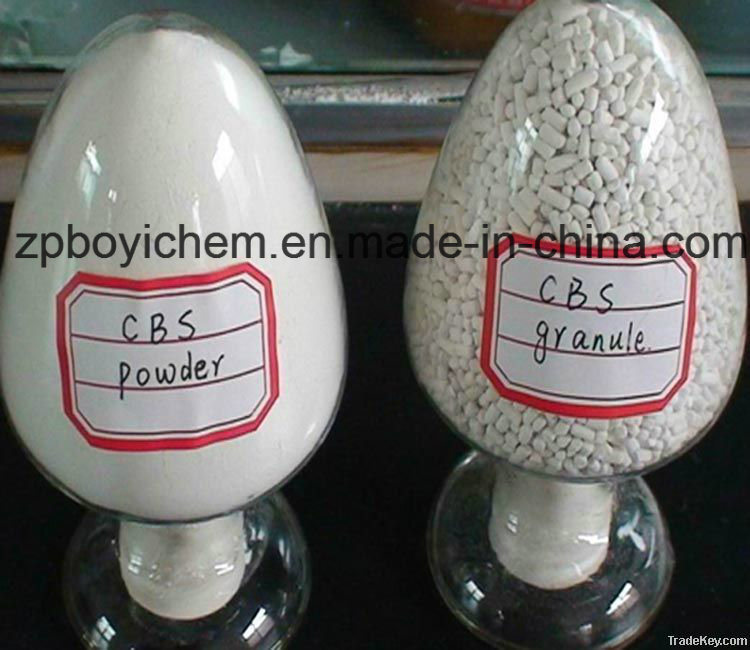 ct sunlight. The validity is 2 years.